Lesson Discussion Comments
The ChinesePod community, made up of lesson comments and our forum, is designed to facilitate a collaborative, open, and friendly environment for learners. As such, allowed comments do not necessarily represent the views of ChinesePod.
For the benefit of all ChinesePod users, ChinesePod encourages focused and relevant comments in individual lesson discussions. In this case, "relevant" means comments or questions related to the language or cultural points in the lesson.
Comments deemed to be either unrelated to the respective lesson's learning content or unhelpful in furthering users' learning may be removed by ChinesePod staff.
If you find a mistake with the lesson content, please use the Report a Mistake feature in the sidebar, or if using the app, submit a support ticket in the help section. A member of staff will try and fix the error as soon as possible.
If you would like to discuss Chinese in general, please use the forum.
Out of consideration for Newbie and Elementary users, please provide English translations along with any Chinese (characters or pinyin) written in Newbie and Elementary lesson discussions. Blatant disregard for this courtesy may result in your comments being removed by ChinesePod staff. 
Specific Commenting Policies
Technical & Content Issues
Comments related to temporary technical issues, typos, or errors found in the text or audio content should be submitted using the Report a Mistake feature found on every lesson page in the bottom left drop-down menu. Mistake reports will be dealt with by a member of staff as soon as possible. Any comments left on the lesson related to technical or content issues will be removed once the issue has been resolved.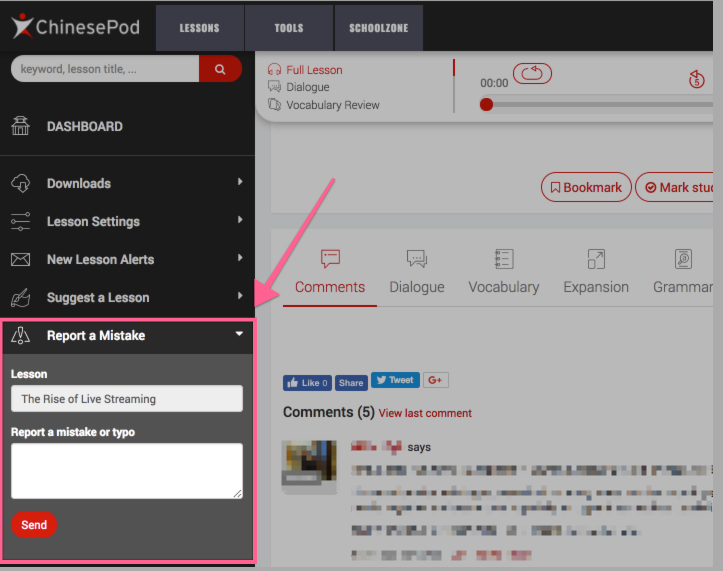 If you have any technical problem with your subscription, please do not post on the lesson discussion boards. This is reserved only for relevant language questions. Contact support@chinesepod.com either by emailing, or opening a ticket on this page. 
Vulgar or Offensive Language
Comments containing inappropriate language will be deleted by ChinesePod staff. If the behavior persists, the user's commenting privileges will be revoked.
Abusive Comments
Comments containing personal attacks directed at ChinesePod staff or other users will be removed. Normally, a warning will be issued to the user responsible for such attacks. If the behavior persists despite the warning, the user's commenting privileges will be revoked indefinitely. In cases of extreme violation, the user's commenting privileges will be revoked indefinitely, without a warning. Commenters that persistently post volatile comments that could be seen to upset other learner's language goals will be removed without warning. You may also have your commenting rights revoked.
Libel
Libelous comments will be removed at the discretion of ChinesePod staff.
Spam
Spam (advertisements) will be removed at the discretion of ChinesePod staff. Users who have created accounts solely for the posting of spam will immediately lose their commenting privileges. Promotion of commercial or unrelated products and services will also be deleted from ChinesePod websites.
Language Partners
ChinesePod is proud to facilitate friendships and cross-cultural learning between China and the rest of the world. However, as mentioned above (see "Lesson Comment Discussions"), lesson comment discussions should focus on lesson content. If you are looking for language partners on ChinesePod, please do it through user posts in the Community section or other appropriate groups in the Community section. Posts pertaining to Language Partnership in Lesson Discussions will be immediately deleted.
Contact
Please note that in order for the ChinesePodStaff to contact you in the event of any issues, you must make sure you have updated your profile with your current email address. "I didn't know" is not a valid complaint if you do not provide a legitimate, regularly checked email address so that we have an open channel of communication in the event of any issues.